By Katie Heilman, Special to The Sybaritic Singer
Violinist Haerim Elizabeth Lee and jazz pianist Alex Brown team up to create a new album of works of George Gerswhin and other American composers in My Time is Now. The title of the album comes from a quote by George Gershwin himself:
My people are American, my time is today. Music must repeat the thought and aspirations of the times.
These works are the first recorded on the newly-restored Steinway that belonged to Gershwin in his New York apartment, bringing the music full-circle in a nostalgic, heartfelt collection of old and new.
Lee and Brown exude pure joy in the Jascha Heiftiz arrangements of Gershwin tunes
The majority of the pieces included on this album are Jascha Heiftiz arrangements of Gershwin tunes, both excerpts from Porgy & Bess and instrumental works. It is believed that Gershwin composed portions of his opera on this piano, so it is appropriate that these arrangements are included in the album as they come home to where they were invented. Lee's violin sings like an opera singer, whether in the bold opener of "It Ain't Necessarily So," the sweet romance of "Bess, You Is My Woman Now," or the wistful nostalgia in "Summertime." Heifitz's arrangements balance the violin and piano nicely, as though each instrument is singing to each other instead of the piano simply supporting the violin. The arrangements of the three piano preludes and An American in Paris are all lovely. Lee's violin still sings in these instrumental works, especially in the second piano prelude, where she takes on a blues-like rubato that warms the soul. Lee and Brown both exude pure joy in their recording of excerpts from An American in Paris. It is easy to tell that they had fun recording this piece, and it is hard not to smile while listening.
Contemporary works by distinctly American composers including: Michael Daugherty, Ellen Taaffe Zwilich, William Bolcom, and Patrick Harlin.
My Time Is Now includes three newer works by contemporary American composers, all of which are premiere recordings. The first of these is Patrick Harlan's #tbt, commissioned for this album. Harlan's work is truly a throwback to the days of Gershwin as it pulls from his style while maintaining a more contemporary edge overall. It is poignant, like looking at snapshots of Gershwin's musical moments without any obvious direct quotations. The ending of the piece is especially breathtaking, fading away into the stratosphere as it takes the listener out of a dream and back into the present. Ellen Taaffe Zwilich's Fantasy for Solo Violin is a virtuosic tour-de-force that Lee performs effortlessly. The piece begins with a Shostakovich-like harshness before moving into an incredibly challenging gauntlet of violin technique. This piece has immense stage presence, and one might forget that there is only one violin playing due to the power Lee portrays in her performance. The next track is Michael Daugherty's Viva, bringing the listener out of jazz for a moment and into fast fiddling clearly inspired by bluegrass and old-time music. It is a fun, aptly-titled piece that is certainly challenging to perform. Closing out this middle portion of the album is William Bolcom's classic rag Graceful Ghost, serving as a bridge from the contemporary back to the aforementioned excerpts from Porgy & Bess.
Newer arrangements of Gershwin tunes for violin and piano
The album closes with a few newer arrangements of Gershwin tunes: "Short Story" arranged by Samuel Dushkin, and three by Alex Brown. Dushkin's arrangement of "Short Story" is playful and cute. At moments, the violin sounds like a small child pretending to act like a serious grown-up before returning to a more innocent, mischievous nature. The introduction to Brown's version of "Embraceable You" is dramatic, as Lee's solo violin opens with a modal drone and improvisatory play on the famous tune before Brown's piano leads the listener from the dark, chaotic opening to a sweet, romantic ballad with some delightful modern twists in the harmony that enhance the original romance. "Sleepless Night" includes a Broadway-style presence in Lee's more rubato violin lines, the piano pausing and following her like a pit orchestra. Finally, "Violin Piece," published after Gerswhin's death, acts as a nice little bow to wrap it all up in a sweet farewell as the listener leaves this look back on the piano that inspired so much classic American music.
Overall, this album is a delight. The love that Lee and Brown have for the music of Gerswhin is evident in every performance of his music. Gershwin's old Steinway sounds amazing after its restoration. One can tell that it is still an older piano from the tone, and that is part of its charm as the listener is whisked away to an apartment in New York City on a summer's day in the 1930s. The other works on the album may seem somewhat out of place at times, but they do harken back to the quote that inspired the title of this album: "My people are American, my time is today." American classical music is still evolving while honoring where it came from, and this album does both well. 
My Time Is Now is available now from Innova Records.
---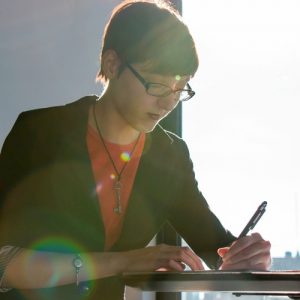 Katie Heilman is a composer, oboist, and beginner mandolinist based in Minneapolis, Minnesota. Katie currently works as the Program Assistant for Greater Twin Cities Youth Symphonies. She has a passion for using social media in the arts, as well as working behind the scenes to help the next generation of musicians.
Katie is a fierce advocate for supporting local arts. You can usually find her attending a chamber music concert or theater show on any given weekend, and she has been a member of the Schubert Club's arts ambassador group Theoroi since 2015. She is also involved in local new music society Punk-Ass Classical.
You can find Katie on Facebook, Soundcloud, Twitter, and Instagram.