Our diva was sort of watching television while scrolling on her phone when she heard it. Some snotty character was screaming, "You're just riding on my coattails! You've never done anything to earn your own success!" Her lungs became a black hole; no matter or radiation could possibly escape. It was true what they say about black holes, it's not that they're empty. They are areas of extreme density. Our diva felt eight years of emotional density caught in her lungs without warning. With her mouth simply hanging open, she felt her eyes flit from side to side. She was still alone in her apartment. She hadn't inexplicably time-traveled. She was safe.
Psychologically, she didn't feel that safe. There was a time capsule of emotional bullshit that just exploded within her. Moving quickly to the bathroom, she ran some lukewarm water and splashed her face. Right behind the water, she could feel the tears trying to press free. She staved them off. "Not now," she thought to herself. "You're fine. You can handle this. He's not even here." The "he" that our diva was referring to was the bass from her choir quartet in undergrad. Just thinking of his name and his face gave our diva goosebumps.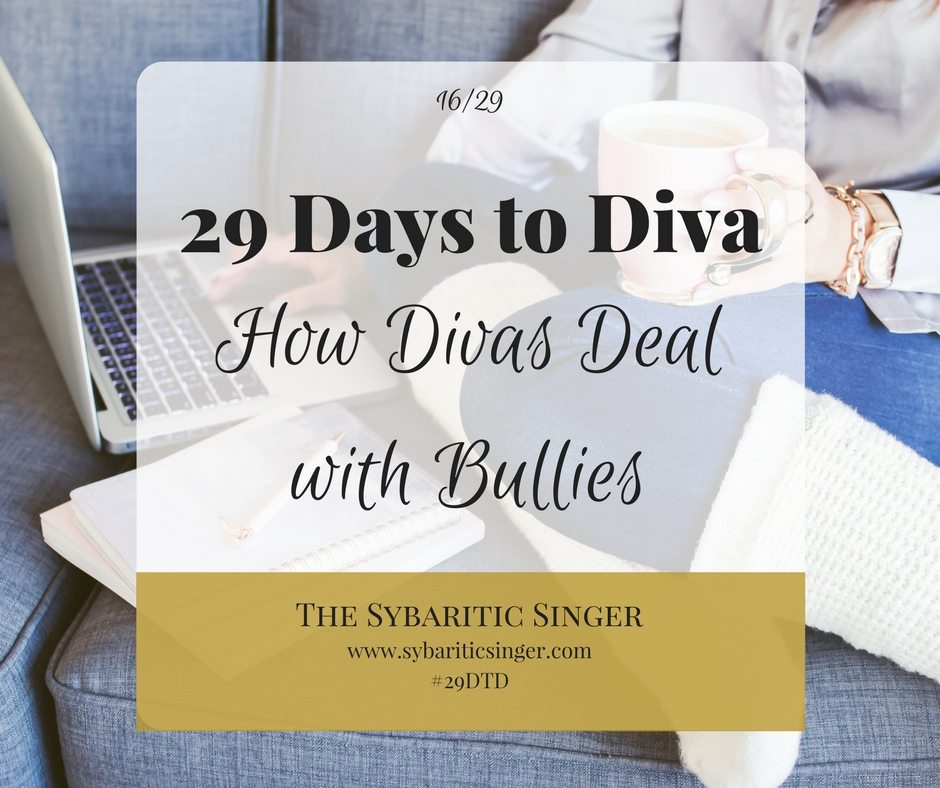 The Day 16 challenge on your journey is to deal with your bullies.
It wasn't until after undergrad that our diva realized that she had been bullied by this guy that she thought was her friend. They had a tenuous relationship from the very beginning. But, she thought that they would eventually overcome it because they had so many shared interests and spent so much time together. Boy, was she wrong. He had this superhuman ability to pick up on the things that she was most sensitive about and then use them against her. He would cozy up to her and get her to unveil incredibly personal stories and fears before she even realized she was doing it. He was so cunning, or so she felt, in the way that he did it too. His tone and words always seemed so caring but the subtext of every conversation was, "I know exactly what you find most important and scariest and I will use every single one of those things to ruin you."
Quartet rehearsals were a nightmare with him. He would isolate and pick on her constantly under the guise of needing to be better musicians. Moreover, he would regularly give her advice or tips on her technique and then guilt trip her when she didn't seem to be putting those suggestions in place. He never said anything to the other two members about needing to advance their skills or musicianship. Those two never came to her defense either. They had to have seen what was going on. He would make comments on her performance in studio class that always seemed to end with, "a little less partying, a little more practicing, am I right?" She dreaded performing in studio class knowing that he was going to get this open opportunity to mock her yet again in front of an audience. He would make "little meetings" to talk to her when he saw her name on an audition list. "Oh," he cooed, "you don't really think you're ready for that do you? Maybe you should wait for the next one. Or, at least, until you figure out that breathing issue."
Is it bullying?
Only later did she realize that he had a much more lasting influence on her experience in undergrad than she thought. A professor had said that he told her that our diva wasn't interested in pursuing music as a career. Then, the professor admitted that she hadn't sent her other professional gigs because she figured she should give them to people who wanted the experience. She also found out that he had bent the opera director's ear this way and that to tell him how difficult it was to work with our diva. Struck to her core, she was hurt that she never realized during that whole time she should have been on offense.
How to deal with bullies
It wasn't until long after the situation that she started to understand all the signs of bullying. She would notice those little makers here and there. She would be in a production and hear someone humiliate one of their colleagues in front of the rest of the cast when moments before they had buddied up to them. She created a mental list of how to deal with bullies:
Trust your instincts and don't ignore it. If it feels wrong, do not try to paint over it with rationalizations.

This, in fact, became a much larger intention for our diva. Because she started listening to her intuition around bullies, she also became more aware of her intuition in other situations like when a colleague was getting a little too "handsy" with her. She was able to relieve herself of the situation a lot faster because she didn't try to explain away her uncomfortable feelings.

Document the other person's inappropriate actions.

She was tired of being battered by emotional responses to uncomfortable situations. Our diva realized that she could just start keeping a note in her phone of dates, times, settings, and objective facts of the situation. That way, if she ever had to bring it up to a director she wouldn't feel like the diva who cried wolf…

Don't play their game.

She knew she would never win. It's not in our diva's nature to be snide or mean to other people.

Set limits and communicate with the other person.

Many times, she realized, the way that bullies got away with saying all of these means things was that they would get everybody to laugh along. Our diva didn't want to feel like she was humorless so she'd get roped into laughing along at someone being rude.
She vowed that when she was being pushed beyond her limits or noticed that someone else was getting bullied, she wouldn't be afraid of being called a stick in the mud. She would simply respond with her best deadpan expressions and take the wind out of the other person's sails.
Bullies love to get people riled up, she noticed. It gives them their power to be in control of your emotional state so easily.

Communicate with appropriate authority figures.

If she had realized what was happening in undergrad sooner, she would have been able to communicate with professors earlier and developed a better relationship there. Even if they sided with him, she could find different people that would be sympathetic to her situation and become her ally rather than letting herself become irrevocably isolated in that situation.
The lasting effects of bullying
This sudden resurfacing of this repressed memory made our diva start to question her current work. All the while, she could hear her bully's voice ringing in her mind. "Well, you're not really up to this challenge yet, little one." she could hear clearer than crystal. Worse than anything he'd ever said to her was the fact that her own negative thinking had assumed his voice. She had this little drill instructor inside of her that used all of her scariest and most toxic thoughts with his voice. It seemed like that was what the outside world truly believed about her rather than her brain just cycling through thoughts that she could either cling to or simply let pass. Our diva wasn't there yet. It still felt as though that voice was real. That voice was the one that had authority even when the original possessor of that voice was long gone from her life.
Raising her awareness to the level in which she could shrug off the after effects of this bully was going to be a much larger challenge or process for our diva. There was going to be some deep inner work to realize that self-esteem comes from inside and not looking to others for validation. After subconsciously allowing this bully to inhabit her mindspace for years after the actual incidents, she was only at the beginning of becoming aware of how deeply it affected the work she was doing.
---
29 Days to Diva: The Worksheets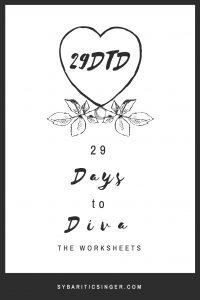 Want some help completing your Day 16 challenge? 29 Days to Diva is all about tackling the big issues of our careers through micro-actions. Bullies can stick around in our mind for years after the actual incidents. Don't let bullies take up valuable space in your thinking! Use this short and sweet flow chart as a prompt for changing your irrational thoughts to more rational ones.
Hey divas! I could really use your help. If you liked today's post or any of the 29 Days to Diva posts so far in this series, will you please share it on your favorite social media channels? It would really help me out. Thanks! You can find me @mezzoihnen or feel free to use the hashtag #29DTD or #29DaystoDiva.