She stared at the computer screen. It blankly stared back at her. "Oh God," she thought, "what am I supposed to even write?" She started typing in the email draft, "Dear Sir," and she stopped. No, that couldn't be right. She didn't want to write, "Hey Nick" either. That seemed too informal. But, how do you address a guy with a scruffy beard and tattoos that bartends at his own non-traditional music venue? She was reminded of that scene in "You've Got Mail" in which Tom Hanks starts typing an apology for standing up Meg Ryan. You hear the key clicks, he pauses, and then he deletes it all. He starts again only to take both hands to the delete key once more. "Ugh! This is no way to get to the next step by agonizing over the darn intro!" our diva felt exasperated.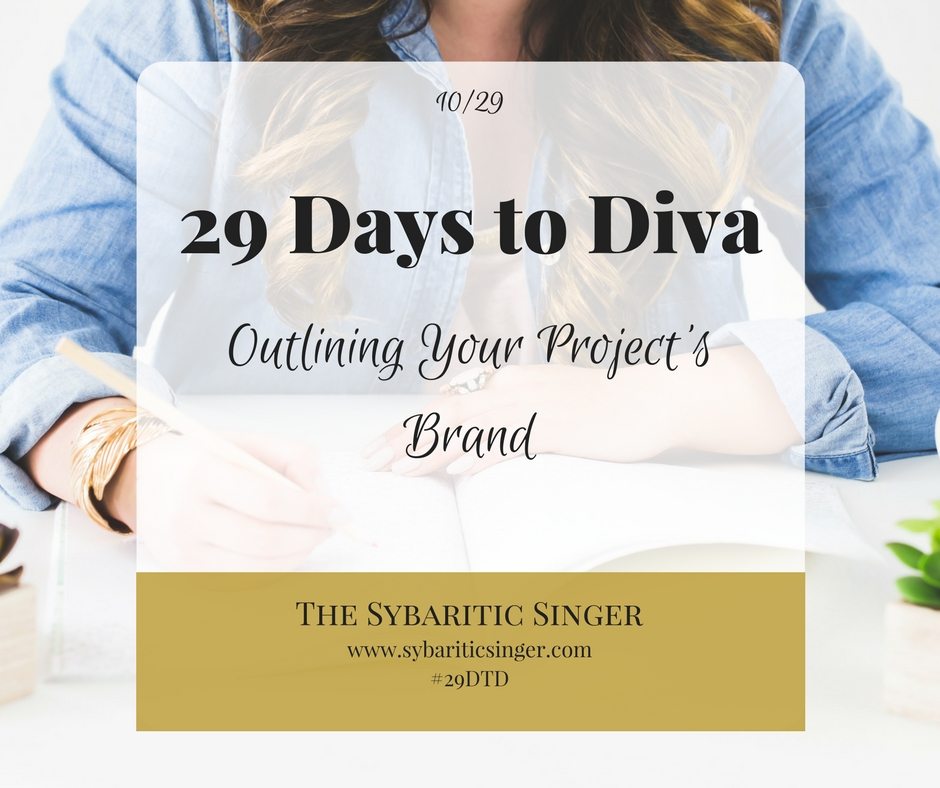 The Day 10 challenge on your journey is outline your project's brand.
She got half-way through writing the email and then suddenly took her mouse to the corner and clicked on the little garbage can icon. That's how she felt. She should just toss all of these new ideas in that little garbage can. Still on the high from the interaction she had while ordering her drink, she had mentioned her idea of the performance event around mental health for artists to that imposing group of hipster dudes. One of them laughed. Another guy seemed slightly intrigued but said, "well, you know the ensemble in vita indiscussum in Brooklyn is doing practically the same thing. They're fantastic. You should really check them out." She laughed for a second at the thought of a group called "in vita indiscussum" doing a self-awareness building performance. But, she realized she was the only one laughing.
Coming back to the here and now, she wondered, "If somebody is already doing this, maybe I should just scrap it. I don't want people to think that I'm copying them." She clicked over to a different screen and threw herself into her work for the day. There were obviously more pressing matters to which she needed to attend. As she tried her hardest to distract herself with work she couldn't get rid of the nagging feeling that she was missing an opportunity. Her cousin's voice snuck into her mind and reminded her, "hopelessness is tempting, my darling, but you have to do something about it." Feeling the mouse under her palm navigating back to her email inbox, she clicked the plus sign and started typing. "I am not waiting any longer for a perfect opportunity or a perfect set of resources. I'm going to go for it. If I'm going to make a difference, why not start here? Why not now?" our diva bolstered herself.
Creating a Brand Outline
After she sent off her email to Nick at Hail House, she realized she wanted to pitch this idea to more people. But, she read back through her email and suspected that the concept was still a little vague. She opened a new tab and started a new google doc. She titled it "Venturing: Mental Health Performance" inspired by the chapter in the book she was reading yesterday. She started making some signposts that she had pulled from another book on her nearby bookshelf: Brain Tattoos: creating brands that stick in your customers' minds. There was a fantastic chapter in it called "Four Engines of Brand Development." The whole branding buzzword made her a little queasy but she realized that she needed to get a lot clearer on what this project might entail and this would help:
"Know Who You Are

Set Your Goals
Define Your Voice and Vision
Define Your Purpose
Define Your Personality

Be Unique

Determine Your 'Points of Distinction'

Connect with Those Who Want What You Have

Most Brands Have Multiple Buyers
Buyers of a Feather Flock Together
Make Data Gathering a Priority

Deliver a Great Experience

Points of Contact
Create a Three-Part Experience
Exceed Expectation"
She started chipping away at her outline. She narrowed her scope so that she would just be writing about this specific project. But, if it helped her get clearer on her larger brand as an artist, that would be okay too. The first section required her to take an incisive snapshot of her ideas as well as her personality and purpose. "This is hard" she murmured. But, she felt alive. It's worth it to do hard things. She took to her scratch pad on her desk and challenged herself to write a handful of sentences of ten words about her project. After she had pushed through eight sentences. She went back and circled the words that jumped out to her. These words would start to make up the framework for her "voice" about the project. This helped her get clearer on the purpose of her event. She knew that was drawn to expressing self-esteem and self-efficacy through art-making practices. Words like "emotional energy" and "self-improvement through service" were starting to jump off the page.
Getting to Know Your Audience
She started researching other groups that were tackling mental health issues through their music or art activities. Our diva realized that this was both part of "gathering data" under her third heading "Connect with Those Who Want What You Have" as well as the "Be Unique" section. She wanted to make sure she could add to their efforts overall. Maybe she could be part of a larger tidal wave of people all working towards better mental health solutions. It made her smile to think how great that would feel. She pushed on. Under her second heading, she started brainstorming how she could create points of distinction for this project. Who would the market be? She substituted audience for market. Then, she started thinking about how there could be different audiences for this project. There would hopefully be a group of her audience who identified as artists. Maybe she could even invite mental health professionals. "Who else would be a good fit in this audience?" she wondered.
As she kept working, she prompted herself to write about the social and world conditions to which she was responding or perhaps her audience was experiencing. Then, it was on to another point of distinction: could people easily copy this idea? Is that something she wanted? Did she want to create something that other artists could easily copy and do in their own work? Or, did she want to put together something that only she could do? She wrestled with the various answers and finally decided that she wanted to create a framework that other singers could adopt but that there would be elements to her performance and interactive work that only she could do. She wondered if this project had legs or longevity. Could this project get better and more valuable over time? She started writing about how this project could start now in one form and morph into different stages.
Going Beyond Audience Demographics
Our diva spent her lunch brainstorming who would be attracted to a project like this. Taking in the the sight of all the different people bustling around her at this little lunch spot near her office, she thought about where she could find enthusiastic supporters of this idea. Where would she need to go to find fans that would come to the performance simply because of their demonstrated interest in the subject. She knew that if she only relied on her own circle of friends, she wouldn't be able to reach very far. Maybe she would even miss some people who really wanted this kind of performance in their city but she didn't know personally yet.
When she got back to her computer, she was deep in thought over delivering a great experience. "Oh boy, create a three-part experience? What does that even mean?" she realized she needed to head back to the book. She read silently, "The brand experience does not occur only at the time of transaction. The brand experience begins as soon as you appear on the buyer's radar screen. By dividing the experience in three distinct time zones — before they buy, while they are buying, and after they buy — it's much easier to identify new opportunities and potentially dangerous challenges." Okay, time to sub out some corporate jargon. What were the three distinct zones in relation to her project? She tried thinking of it like leading up to the performance, during the performance, and after the performance. She furrowed her brow, "after the performance? I've never thought of that before. Like, send them a survey or something? Hmmm, what would be a good way to keep people engaged after the performance?" Clicking her pen furiously, that always meant that our diva was in her getting shit done mode, she considered what they could make during the event that might be like a take-away or a gift or something so that people could get more use out of the event than just the moment. She started toying with the idea of making "self-care packages" to give away as goodie bags. "Oh, I like that," she said with self-satisfaction.
Creating a Brand Experience
There was clearly a lot more thinking to be done on this than what she could get done today. But, this was a good start. She was just getting started thinking about involving all of the participants' senses in each of the three stages. Thoughts came flying out of nowhere that helped her get clearer on crafting a distinct mental mark on what this performance event could be. She felt better about not being exactly the same as that Brooklyn ensemble. She was happy that hipster guy told her about them but she felt relieved that she wasn't copying exactly what they are doing. Maybe they could even partner on something in the future. "Whoa, don't get ahead of yourself, honey," she cautioned.
This outline was really surprising her with the big stuff and the little stuff that it exposed in her thinking. Her notes were full of tangibles and intangibles that inspired her; she had repertoire choices lighting up her brain. She couldn't wait to get in the practice room and get to work. Looking at the clock she drooped a little to see how long it would be before she was able to sing again. At the same time, she was thankful for the parameters that had inspired her to do this deep dive into a new project.
---
29 Days to Diva: The Worksheets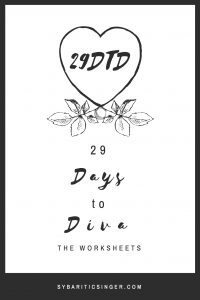 Want some help completing your Day 10 challenge? These challenges are getting more involved all the time. Here's a worksheet that helps you begin your project brand outline! Get ready for some heavy brainstorming, divas.
Try it out! If you like it, I hope you'll sign up for the email list in the box below and share this post on your favorite social media channels. You can find me @mezzoihnen or feel free to use the hashtag #29DTD or #29DaystoDiva.