There had been an absolute flurry of activity for our diva after the hilariously-themed "The Rock" gala. Her Traviata performances had gone off without a hitch and she even got a slight name-check in a local suburban paper. She was still plugging away at her desk job and found herself, surprisingly, diving back into her research and feeling less overwhelmed by it all. That feeling of winning the people lottery, during the gala, had really worked wonders on her ability to see how these little tiny actions could truly change her life experience. It was as though she was back, even if just on the on-ramp, to that open road or open field feeling she'd had before.
It dawned on our diva just how much staying committed to the goal over the course of each day was an integral challenge to her journey. She was playing a long game; but not too long of a game. Instead of feeling overwhelmed or pressured to have some sort of overnight success, she started focusing her efforts on doing the work that would lead to success. "What are the actions that lead to success?" was a clear mandate in her mind. She knew she was ready to reach out and ask for more help. So, she had emailed one of her professors from grad school and asked to get together to chat.
The Day 7 challenge on your journey is to create your own map.
This wasn't unusual. Our diva and this professor had stayed professionally close after her time at school. They, with their significant others, had dinner every so often and always got along famously. She hadn't really thought much of that other than just social time with people who understood each other. But, this time, she needed a little bit more advice…
The margarita at this new "mexican kitchen and tequileria" lived up to the enthusiasm it had generated among the post grad set she knew. Everyone had raved about this little ten table establishment in a covertly gentrifying part of town. Her professor walked through the door, immediately spotted our diva, and made his was over to where she was sitting. Their usual pleasantries were exchanged and requisite margaritas and charred pineapple salsa was ordered. As they gobbled down the delicious fare, they got to talking about our diva's new agenda.
They don't get a map. They make their map.
"It just feels like such a big goal. It's hard to see how that whole path comes together. Like where's the map for that?" our diva found herself uttering.
Smiling, her professor started in, "well, casual readers of history often see heroes, visionaries, and explorers as possessing super-human qualities. This error in judgement is often propagated by larger-than-life descriptions of them in our books and even seeing entrepreneurs online these days with some sensational story about making a million dollars seemingly overnight. What you come to realize over time is that they aren't all better or faster or smarter or more talented than anyone else but rather they feel a calling, much like you are starting to discover right now, and they make their own opportunities even with mundane means. They don't figure out the map and then start following it. They make their map for the day or the month and that's what makes the map overall."
Our diva let loose a heavy sigh. "You're right. I guess I just need to be patient."
"Patient? Maybe. Patient with yourself as you do the work? Yes. Patient with how you pursue your world-building? Not even slightly. Look at all of your idols, my dear. What were their big accomplishments? Did they just fall from the sky? No. Clearly not. They weren't patient with pursuing new ideas from day to day. I know that you know that. But, they didn't know that those big accomplishments were right around the corner either. They were just people doing things they thought were possible and worth doing."
"Well, I'll have a go too."
"There's this great Margaret Thatcher quote," her professor looked at her like he expected her to recite it on command. He always had that look. It was one that gave her that slight pain in her stomach again. Since she didn't answer, he went on, "'One only gets to the top rung of the ladder by steadily climbing up one at a time, and suddenly all sorts of powers, all sorts of abilities which you thought never belonged to you – suddenly become within your own possibility and you think Well, I'll have a go, too.' Isn't that just it? You keep doing the work and you show up to a festival and meet the right person who opens a door for you here. And then you check your inbox on another day and there's another person asking you to make their project happen."
"Yes, but, what if it doesn't happen like that?" asked our diva. "I thought I was doing all of that."
"And that's why you're at this point of your journey now," answered her professor. "You can't grow unless you're really ready to let go of what you have been doing and try the next thing. The thing you haven't even thought of yet."
That familiar taste of ambition.
They kept chatting for a moment before our diva excused herself from the table for a trip to the ladies' room. Her professor kept thinking about their conversation. He smiled to himself briefly while he thought, "I hope that she also realizes how wonderful it is to be right where she is." He remembered what it felt like for him to be in the same place. He could practically taste the ambition in his mouth again; some captivating combination of coffee and cigarettes and the smell of score paper. That feeling of brimming with optimism and desire for career goals was a fond memory for him. He still felt the siren song of further accomplishments, but there is simply nothing like being at the outset of the journey especially when you don't recognize it. "Untravelled worlds and the like," he mumbled to himself.
Our diva took her seat back at the table. There was another round of margaritas and more tacos than two people with exemplary manners should admit to eating. While all of the gluttony was happening in the safe confines of this tequileria, they examined the issue at hand further.
Yes, but how?
"Okay, so I have to make my own opportunities to unearth my artistic integrity. Not to be pedantic, but how do I even do that?" our diva didn't like feeling naive in front of her professor. But, she knew that she could ask him pretty much anything.
"Now, that's a question for the ages right there. Okay, if you imagine that each one of your idol's careers has been crafted, ask yourself, 'what were the tools? What were the materials? What were the different objectives of each of the products they created? Who were their co-craftsmen on each project?'"
"I see. I see. So, if I made a list of my hero's accomplishments, maybe that could be like a map?"
"It could be. But, remember, artistic integrity doesn't come from mimicking or copying other people. It comes from being influenced by people and the world around you and being creative with the outcomes. It's about uniting things or sounds or ideas that don't necessarily makes sense together to the rest of the world, but inherently make sense to you. It's also about being surprised by things and turning those surprises into opportunities. How have you been surprised so far? You know, your work as an artist may not be intentional or even the result of foresight or imagination. It's more dynamic and interactive than that. You can't build a music career by yourself. It might just be about transforming your possibilities into opportunities. Look at the most local opportunity you can find right now and move outward from there. Don't be afraid of always starting from your homebase or satisfying your own individual motivation. What do you wish existed in the world?"
"Oh man, I don't even know. I'll have to think about that."
An Invitation
They both noticed that the conversation had started to decelerate and made their moves to pay the bill. Both grabbed their jackets and headed toward the door. Just outside they hugged and were heading off to their parked cars when her professor called out, "Oh! I almost forgot. I'm going to this concert tomorrow night. A friend's ensemble is in town. It's at the Hail House. Would you like to have my extra ticket? I'd like to introduce you to the director." Our diva hesitated for a moment, she had planned on doing some work at home the next night. But, she quickly remembered her experience at the gala and said, "of course! I'll be there!"
---
29 Days to Diva: The Worksheets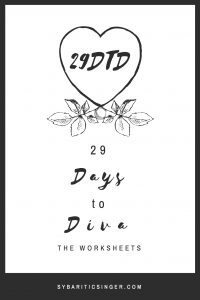 Want some help completing your Day 8 challenge? 29 Days to Diva is all about tackling the big issues of our careers through micro-actions. What can you do today to move yourself closer to unlocking your artistic integrity or achieving your biggest goals and dreams? Have you wanted to create a roadmap for your singing career? Today's worksheet is about how to start finding some signposts as well as how to plan ahead for surprises along the way!
Try it out! If you like it, I hope you'll sign up for the email list in the box below and share this post on your favorite social media channels. You can find me @mezzoihnen or feel free to use the hashtag #29DTD or #29DaystoDiva.